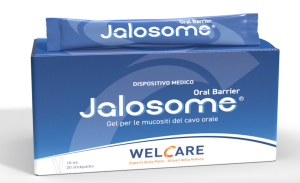 Jalosome Oral Barrier
Jalosome® is indicated for the management of painful symptoms of oral mucositis caused by Radio- and Chemotherapy. Jalosome Oral Barrier carries out its analgesic action thanks to its high mucoadhesive properties, that allows to form a protective barrier on the oral mucosa.
QUALITATIVE AND QUANTITATIVE COMPOSITION
Each stickpack is 10ml.
Composition: Hyaluronic acid, Panthenol, Aloe Vera gel, Althaea Pythocoplex
MEDICAL DEVICE FORM
Jalosome Oral Barrier a viscous gel for mucositis treatment
Nature and contents of container
Jalosome Oral Barrier: 1 dispenser: 20 stickpacks
Jalosome Oral Barrier can be used when needed, up to 3 times a day. Squeeze the gel in the stickpack into the mouth, uniformly impregnate all the oral cavity. Expel any excess. Don´t eat and drink for 30 minutes after.
​